The history of meenakari dates back to 1500 BC. This art originated in Iran and has spread to other parts of the world such as India, and based on historical evidence, a person named Raja Mansingh brought the art of meenakari from the Mongol palace to Lahore. Rajasthan is established in India as the center of meenakari jewelry in the world, followed by Varanasi and Delhi.
Enameling on jewelry and ornaments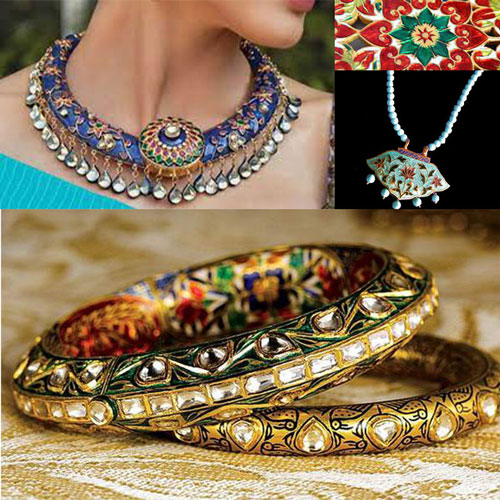 Meenakari can be done on a variety of metals such as gold, silver, and copper. While Indian craftsmen often use this art to decorate gold jewelry. Although this art has gone from Iran to India, it has been influenced by the culture of that country and has found its style. Indian artists use red, green, and yellow colors and sometimes azure and blue in their jewelry decoration.
The most important use of meenakari jewelry in India is at weddings. They have invented meenakari jewelry by combining traditional ornaments and new achievements and modeling of Iranian meenakari.
There are two styles of meenakari on jewelry in India:
1- Using a single color in jewelry decoration, which is mostly done to decorate the bride's jewelry and tries to be set with other bride's clothes.
2- Using white, pale blue, dark blue, red, and dark green colors to color the bride's jewelry

The method of preparing Indian enamel jewelry is that grooves and carvings are done on the surface of the jewelry and it is painted with bright colors inside them and then it is heated inside the oven to 850 degrees Celsius to fix the colors. Also, enamel jewelry with stones They are decorated for a more attractive price.
The difference between Indian enamel and Iranian enamel works is in the use of precious and semi-precious stones and various and brilliant colors in Indian enamel. They are also very interested in embossing jewelry such as earrings, bracelets and decorating them. And these enamel jewelry are mostly used to decorate bridal jewelry.
Here we note that in the production of enamel jewelry in India is used not only gold but also other metals such as silver, brass, and copper.
Iranian Enamel Jewelry
Enameling on gold has been done in Iran for a long time. Among these works is the Achaemenid gold bracelet, which is now on display at the Victoria and Albert Museum in London. Meenakari on gold makes gold more attractive. Gold is also the best metal for performing the art of meenakari because it retains its stability against chemicals and high temperatures and does not oxidize. However, due to the high price of enameled gold, it is less used today, but the art of meenakari on gold is not obsolete and has its customers.
Meenakari on jewelry is done in two ways, hot and cold methods.
In the cold method, the jewelry is painted with liquid color and does not need to be heated. But it must be done with great care and speed because these colors are used with a color stabilizer and make the work difficult for the enamel. After drying, they become shiny. In cold enameling, if they use quality materials, their stability and durability are very high.
Hot enamel on jewelry:
In this method, special meenakari paints are mixed with water to obtain a thick and uniform liquid. After painting, the jewels are placed in an oven and heated to 700 to 900 degrees Celsius. This step may be repeated up to 20 times. The important point is the duration of the jewelry inside the oven, which is highly dependent on the experience of the artist, who may take the jewelry out of the oven sooner or later.
Other enameled jewelry:
Today, the art of jewelry enameling is done not only on gold but also on silver, copper, and even precious stones, which multiplies their beauty. Some artists work exclusively on each of the mentioned items, and beautiful products and they create uniqueness.
Painters and designers of enamel ornaments implement original designs on precious stones according to the customer's taste. These stones are available in various colors such as light blue, dark blue, green, black, brown, gold, honey, and crimson. He can choose the material of jewelry hardware, which can be made of gold, silver, steel, or copper.
To make enamel on jewelry and ornaments, the style of housing meenakari or wire meenakari is used. The method of making it is briefly such that they create houses on the metal surface by using wire or tapestry, then the inside surface of these cells is painted with meenakari colors. They are painted, then the housing meenakari is heated in a furnace to a temperature of about 800 degrees Celsius. Today, the variety of meenakari can be seen in many things. In addition to metals, this art is even done on wood and clothing.
Man has always tried to bring beauty and art into the garment industry, so combining the garment industry with the art of enameling has caused a change and transformation in the garment industry. The artist by implementing meenakari designs such as slimi, Khatai, works, and Historic buildings and Persian poems on buttons and clothing accessories have revolutionized the clothing industry.