In this article, you get familiar with Persian handicrafts. Iran is one of the countries that have many and varied handicrafts. And this diversity is the result of diversity in different climates of Iran and the people of each climate have invented many handicrafts to meet their daily needs and needs, and these handicrafts have become artistic with the advent of modern machinery and technology.
Handicrafts without the need With advanced technologies and only relying on local and traditional expertise and taste, they have been able to maintain their position in any country and even at the international level.
The handicrafts of each land reflect the culture and art of that land.
Variety of Persian handicrafts
600 handicrafts have been registered in UNESCO, of which 450 handicrafts belong to Iran and 287 of these industries belong to the city of Isfahan. (Wikipedia)
Iran is the third-largest producer of handicrafts in the world and the Cultural Heritage Organization is in charge of this sector. Each of the different cities of Iran has its handicrafts, and among these, the city of Isfahan is known as the "World City of Handicrafts" with the most products.
Some Persian handicrafts include
Metal-related arts such as davatgari(making metal products by cold metal method), metal engraving, tapestry, enameling, turquoise inlaying, copper utensils, gilding, and silver work.
Wood-related crafts such as latticework (moshabbak kari), wood carving (monabat kari), wood mosaic work (moaragh), and marquetry (khatam)
Types of handicrafts texture such as kilim, Zillow, Gabe, and carpet (handmade carpets)
Traditional dyeing can be done on paper, wood, wool, silk, and cotton
Traditional design and painting such as miniature, gilding, painting flower and bird, painting behind glass
Ceramics and tiling
Leather and leather products
Mat weaving
A variety of traditional prints such as hand-stamped calico
Masonry and stone carving
The most popular handicrafts in Iran
The most famous handicrafts of Iran have a great variety and high quality and have a global reputation. In 2017 and 2018, a total of 42 works received the International Award for Quality and Originality of Handicrafts from the World Handicrafts Council.
Below we introduce some of these handicrafts.
Types of handicraft textures
Persian rug (kilim)
Kilim is a type of carpet or underlays that are woven with threads and fabrics made of wool, cotton, silk, or hemp. A kilim is a smooth carpet without lint and is a sub-branch of traditional textile and weaving art. Today, different types of kilims have their fans all over the world. The history of this art dates back to 3000 BC, which is the date of the beginning of textiles. The oldest known kilim is a piece obtained by Dr. M.A. Stein from under dunes near Khotan in East Turkmenistan, and parts of it are strangely preserved. Its texture probably dates back to around the fourth century, the fifth century AD. In addition to Iran, this handicraft is produced in various Middle Eastern countries such as China, India, Pakistan, Afghanistan, Turkmenistan, and so on. In our country, in addition to tribes and nomads, there are in the provinces of Khorasan, Fars, Kurdistan, Baluchistan, Yazd, Azerbaijan, Kermanshah, and… this beautiful product
It should be noted that tribes and nomads in different parts of Iran have their kilims.
Persian wall carpets
Wall Carpets are small carpets that are framed and hung on the wall for decoration. The raw materials in the texture of carpets, fluff, wool, cotton, and silk are natural or artificial. Carpets made of silk are very delicate, beautiful, and eye-catching and are considered a luxury and precious goods.
The best handmade carpets are produced by artists in the historical city of Tabriz. This city is known as the capital of world wall carpets, whose paintings have even reached the palaces and museums of the world.
These paintings are produced in different sizes and designs that cover all tastes. Some of these designs are:
Landscapes such as river forests, mountains, and the sea.
Animals, natural images of animals
Flowers, bouquets, and flower baskets
People, pictures of world-famous people
Faces, pictures of famous music and cinema artists
A combination of landscapes, animals, and monuments
Persian handmade carpets
At present, it can be said that the Persian carpet is one of the best and most beautiful types of carpets in the world, which has been confirmed by international carpet experts.
What has made Persian carpets famous is the quality of the raw materials used in them, which along with beautiful and eye-catching designs has made them world-famous. Kashan, Isfahan, Tabriz, and Kerman were mentioned. It should be mentioned that each of these cities has its style.
The raw materials used in handmade carpets are mainly wool, cotton, and silk. The use of silk yarn in carpets makes it more beautiful and popular, and its price increases accordingly.
At present, Persian carpets are exported to 80 to 100 countries around the world. The most important export markets for carpets are Iran, UAE, Lebanon, Italy, Pakistan, Germany, and France.
Wood related crafts
Persian Mosaic work (moaragh in Persian)
Mosaic work is to create designs and patterns using small pieces of wood, metal, fabric, tiles, etc. with elegance and beauty next to each other.
Persian artists were able to create unique works by using geometric shapes. Examples of mosaics on tiles can be seen in Persian historical monuments.
Mosaic on wood is done in many cities of Iran, such as Isfahan, where the desired design is created by combining colorful wood on a wood or polyester background.
The most important thing that increases the value of the mosaic is the quality of the wood used in it.
The wood should be about 2 to 3 mm thick and healthy and free of cracks and rot. It should be noted that the drier the wood used, the better because there is no possibility of cracking in the future.
Wood mosaic art is used in home decoration, especially in apartment lobbies, and has very beautiful visual effects.
Woodcarving (monabbat kari in Persian)
Woodcarving has been used in Iran since about 1500 years ago. Archaeologists date this art to before the kingdom.
The Sassanians attribute this to the antiquity of this art in this land.
Woodcarving is a type of carving and engraving on wood. The ridges created in woodcarving are well visible. These ridges are the most important element in woodcarving. He used a forest, but mainly according to the selected design, the wood of the pawn, boxwood and pear trees are used.
The most important point in woodcarving is choosing the type of wood. Because in general, softwoods are not used in woodcarving, and wood that has the necessary strength and compactness should be used.
One of the woodcarving samples, which is the culmination of Persian art, is an exquisite table measuring 5 meters by 1.2 meters, which is a combination of mosaic and woodcarving art.
Marquetry(khatam Kari)
marquetry (inlaid work) is a combination of regular polygons with a different number of sides that are formed using different raw materials in different colors.
In an inlaid work design, at least three triangles are used to make the smallest geometric unit and up to four hundred triangles for the largest.
Raw materials used in inlaid work include:
Elephant bones and ivory are like camel bone and horse bone.
Metal wires such as brass, aluminum, and sometimes silver.
Oysters, flakes, wool, and varnish
The surface of the inlay should be oiled to protect it from environmental factors such as humidity, heat, and cold
Metal related handicrafts
Enamel
Minakari or enameling is an art of five thousand years, which is one of the most popular handicrafts in Iran
Enamel is a piece of metal that is shaped like a dish and glazed.
Then eslimi paintings, Khatai, flower and bird,… are drawn on it by the master minakar and then baked in the oven.
It can be done on metals such as gold, silver, and copper. But today this art is done on copper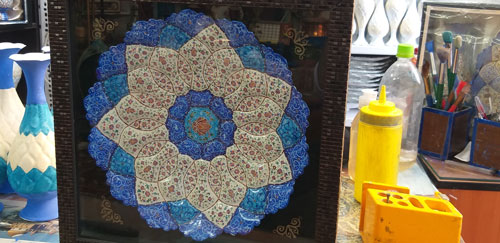 The variety of enamel produced is very large. Containers such as plates, vases, bowls, and plates,
Also, the variety of designs used according to different painting styles, responds to all tastes.
Persian handicrafts of turquoise inlaying
The turquoise stone is one of the most beautiful stones in the world. Its blue and attractive color has been noticed by humans. Stone mines
Turquoise is found in Egypt, Mexico, the USA, and Iran. However, the best and highest quality turquoise stone is related to Iran.
And Neishabour turquoise stone mines are world-famous.
The method of preparing turquoise dishes is that after separating the high-quality turquoise stones, they are washed, and then they are glued with special glue on the surfaces of the copper dishes that they have already prepared.
These turquoise stones are found on copper vessels that are sanded and polished.
In the end, polyester is sprayed on the dishes to be washable.
Persian copper utensils
Today, dishes are made of different materials for eating and drinking. But copper utensils have been used for cooking since ancient times. Today, the use of these utensils has become popular for various reasons. One of the reasons for using copper utensils is their benefits for the body. Copper is the third mineral in the body and one of the essential substances for a person's health because it enables the natural metabolic process related to amino acids and vitamins.
It should be noted that copper reacts with acidic foods, so these dishes are usually covered with a layer of other metal such as tin to prevent copper from entering the food.
To store copper utensils, you must follow the tips that we briefly mention:
1- Do not use hot water and nylon scotch to clean copper utensils.
2. Avoid washing these dishes with strong detergents
3- Cooking food with copper utensils should always be done with a gentle flame
4. -Do not place copper utensils on the flame without water or liquids as this will burn the tin layer.
Persian Pottery handicrafts
Pottery is the making of utensils with mud and the dishes made in this way is called a pottery. Pottery is a lasting and valuable art of man from ancient times to the present day if the necessary points are observed in its preparation and cooking, pottery can last for thousands of years.
One of the most important things in making pottery is preparing good soil, the best of which is clay.

You have a lot of iron and that is why it is red.
Many decorative and functional pottery is prepared by artists in this field, such as bowls, plates, cups, vases, and jars.
Many cities in Iran are engaged in pottery, the most prominent of which are Lalejin, Meybod (from Yazd), Shahreza (from Isfahan), Kashan, Zanuz (from Azerbaijan)
In the importance and value of the art of pottery, it is enough that it is now taught as a sub-branch of art at the university. Pottery has very different personalities because these artists must first be physically healthy and have a lot of patience. Because it takes a long time to make pottery. These artists have an invincible and creative spirit
The art of tile work
Tile work is one of the best and oldest architectural decorations in all Islamic lands. The most important component in making tiles is its glaze. It is a glass-like surface glaze that has a functional and decorative role.
In addition to decorating the interior and exterior of the building, glazed tiles act as insulation of the building walls against water and moisture.
The components of a tile are the piece of clay that forms the main part of the tile and the other part is the glaze on it, which is a glass material. The important point in making tiles is that these two materials are selected in such a way that their coefficient of expansion is equal.
Tiles have different properties depending on the place of use. For example, the tile used for the body should have a more glossy glaze. The durability of this tile is less than the floor tile.
Tiling is found in the architecture of many historic buildings, such as mosques, churches, and even royal palaces
Leather and leather products:
Leather is one of the handicrafts of Iran that has long met many human needs. Needs such as clothing, shoes, belts, and bags.
Leather is obtained in the process of tanning the skin of animals. Tanning is the process of turning perishable skin into a natural and stable materialthat is flexible and has various applications, including the garment industry such as pants, ties, gloves, coats, jackets, and shoes. Accessories such as bags and keychains.
Most leather produced from cows and sheepskins is obtained due to its abundance and availability. Today, leather is obtained from the skins of many animals and birds such as ostriches, kangaroos, pigs, snakes, lizards, lizards, and crocodiles.
Because the skin of each animal has special properties, each of them is used in the preparation of specific products.
Many cities in Iran are engaged in the art of leather making, which can be named as the following cities: Hamedan, Tabriz, Isfahan (especially ostrich leather), Alborz, and Mashhad.
Hand-stamped calico (qalamkar in Persian)
The calico is the art of printing on the fabric. The fabric used in this industry is mostly linen and canvas. In the past, even men's and women's clothes were made of stamped calico. The production of the calico has undergone fundamental changes from the past until now. This means that in the past, the desired design was painted with a pen on silk or cotton fabric, but for several main reasons, this method is no longer used, the most important of which are:
– Spending a lot of time and being time-consuming
– Lack of coordination between the drawn patterns
-Increased cost
For this reason artists, today use engraved molds to transfer patterns to fabric.
In the past, almost all people consumed calico because they used them as curtains, tablecloths, rugs, quilts, blankets, and clothes. Nowadays, calico is widely used as a traditional tablecloth.
Masonry and engraving on stone
Stone Engraving is the use of different methods to make stone objects, such as stone carving (used in jewelry making), stone cutting (such as lattice and mosaic), stone carving (such as engraving). And integrated methods (such as embossing and lattice)
Stones are very diverse and each has its application according to their physical properties such as strength, color, clarity, and hardness, and failure.
Some stone artifacts are non-portable and fixed, such as columns, column components, inscriptions, platforms, and fountains